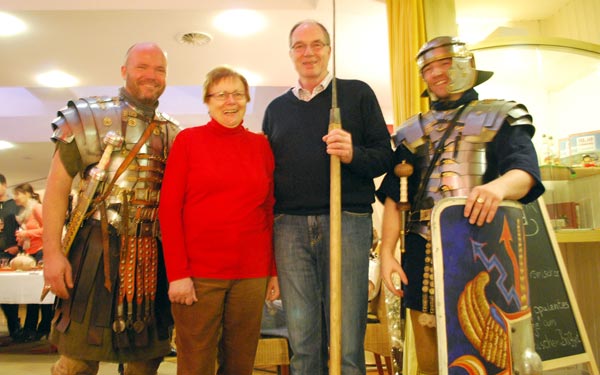 Book online now
Services Included
5 nights in a double room Blue-Gold
For breakfast we offer a plentiful buffet with 5 kinds of bread rolls, Black Forest ham specialties, smoked fish, juice bar, waffle station, custom omelettes, champagne, Faller jam, and much more
Tuesday, 28.12: "Walk and Dine" (Start 6:00 p.m.) with the hotel manager or assistant (entertaining walking tour through the hotel with a culinary break and a glass sparkling wine, afterwards large tricountry buffet with known and lesser known specialties from Switzerland, Southern Baden, and Alsace)
Wednesday, 29. 12.: Buffet with Roman recipes, for example skewered ox and lamb from our Roman baking house
Thursday, 30. 12.: "Gigantic Guest Request Buffet" (at check in guests write down their wishes for soups, appetizer, main course, and dessert, the kitchen staff then try to fulfill as many requests as possible)
Friday, 31. 12.: A glass of Crémant to start, then a festive gala dinner with 5 courses
Saturday, 1. 1.: Gourmet breakfast for late sleepers on New Year's Day with fish and 'Alka Seltzer'
Saturday, 1. 1.: "Fini's Fondue chinoise" (meat fondue, all you can eat, with 4 types of meat, 5 homemade sauces, 'Spätzle', French Fries, salad, dessert buffet, cheese plate)
Drinks are included during dinner (beer from the tap, table wines, soft drinks, coffee, tea; only at the restaurant)
Complementary access to the Vespasian Thermal Bath at the hotel which includes a 200 sq. m large indoor thermal water swimming pool (29 degrees), sauna, steam bath, salt cave, 'Kneipp' area, theme showers, ice fountain with foot baths, spa piazza, outdoor wellness with our large Kelo sauna hut and barrel sauna.
Room comes equipped with bathrobe and towels, slippers are available at reception (free of charge)
Late Check Out until 2 pm
Wi-Fi in all common areas and rooms free of charge
Landline phone calls to 18 countries complementary from your room phone
Public transportation in the Black Forest free with the KONUS-guest card
New Year Program
Wednesday, 29.12: bus drive to the famous Christmas market in Colmar, departure 12:30 pm at the hotel, return to the hotel around 6 pm, drive time around one hour
Wednesday, 29.12, 9 pm: Drawing of the requests for the custom request buffet the following evening at the hotel bar
Thursday, 30.12: "Experience the Romans" starting from 3 pm (craftsmen market with blacksmith, stone mason, cobbler etc. and Roman legionary drills)
New Year's Eve: Dance party with live band, house drinks included from 7 pm to 2 am, at midnight one glass of champagne
Fini's Enormous New Year Firework Celebration on the hotel roof
New Year's Day Celebration at 1 p.m. on the hotel roof with sparkling wine/cider, pancakes and 'Wish Balloons' that we will release into the sky together
| | |
| --- | --- |
| per person in DR only | 699 € |
Book online now
Arrival Tuesday, 28. 12. 2021, Departure Sunday, 2. 1. 2022, extended stays possible.
Surcharges
Extra night with half board
in case of special offers with

2 nights

per person / day
EUR 99,90
in case of special offers with 3 or

4 nights

per person / day
EUR 89,90
in case of special offers with 5 and more nights per person / day
EUR 79,90
Double room for one person
DR price time 1.4
Parking Garage
EUR 10,-
32 spots, per day
Outdoor Parking Lot
Free
38 spots directly at the hotel or enough at the 'Parking Lot South' (250 m away)
E-Parking
Free
Charging station in the parking garage, charging overnight
Wi-Fi
Free
In the entire hotel
Spa Area
For hotel guests
Free
Day admission for visitors
EUR 12,-
10 Ticket Pass (valid for 3 years)
EUR 99,-
Tourist Tax
EUR 3,20
Per person/day (16 years and older)
Museums-PASS-Musées
EUR 14,90
Free admission to 320 museums in 3 countries, per person/day
Discounts
Kids/Teenagers
0 - 6 years
100 %
7 - 12 years
- 50 %
13 - 17 years
- 30 %
(valid with two full price adults, in parent's room, in DR with 22 sq. m one small child can share the parent's bed)
Book online now
The New Year's Program
Celebrate the new year with Roman legionaries!
Almost 2000 years ago, Roman legionnaires found a healing spring in the Southern Black Forest and founded "Aqua Villae", today's Badenweiler. That's why we celebrate New Year's Eve with 'real' Romans. Spoil yourself with exquisite buffets, wellness treatments, gala New Year's Eve celebration with live band, the Christmas market in Colmar, and a unique Roman theme day. At night, we'll send balloons with our wishes for 2022 into the new year's sky.
Your hotel is located serenely in the middle of nature but is still quite central: a perfect combination. It's just 300 meters from the hotel to the hub of the town where you'll find the Cassiopeia thermal bath, the 'Kurpark', Roman bath ruins, castle, 'Luisenstraße', cafés, 'Kurhaus'. But up here, on the 'Blauenstraße' (named after Badenweiler's own mountain, the 1,165-meter-high Hochblauen (High Blue)) it's extremely quiet, because your hotel is in the middle of the former castle grounds.
The Fini-Resort has four and a half stars, beautiful, individual rooms, two restaurants, a bar, and, most importantly, a Vespasian thermal bath. The largest spa area of all hotels in this area, you'll enjoy a 200 square meter indoor pool with thermal water from Roman springs, a unique wellness piazza and a modern sauna area. New highlights are the Finnish outdoor sauna and the healthy Cryosauna with up to -147 degrees Celsius.
On tuesday, we'll transport you to Alsace, only 13 kilometers away. Colmar (the beautiful city, also called Little Venice, with a spectacular old city center) has one of the best Christmas markets of all Europe. Because its open until the 30th of December, we'll take a trip there with you. We'll drive, so you can enjoy a glass or two of Crémant or mulled wine.
Our Roman theme day on wednesday, 30 December, is absolutely unique, because of our Roman visitors: a crazy Swiss club that meets up and lives their hobby. What hobby you might ask? "Living History": in their free time, they live like Romans, almost identically to the way their idols lived 2000 years ago. At multiple booths, they'll show how Romans drew, spun, forged, and made pottery. All in traditional Roman garb. Don't miss the big show, when the centurion lets his legionnaires practice their drills in the middle of the guests. You'll definitely feel transported back in time to Ancient Rome.
The buffet on your last night is also a surprise for us. We don't know what we'll serve, that's up to you to decide as our guest. This is how our special buffet works: when you check in, you can write down your food request, either soup/appetizer, main courses or dessert. Then, we'll put all of the requests in a bowl and draw the food for our buffet. Head Chef Karsten Kleinjung is also present and can veto choices: if you choose smoked kangaroo breast with whole truffles, for example...
On New Year's Eve we like to go all out. During the day you'll relax, towards the evening you'll dress up and then the party will start. With an opulent 5-course-menu in the hotel restaurant. Personally prepared for you by head chef Karsten Kleinung, the highlight of the year, also for the kitchen staff. Afterwards a live band will play for you, drinks are included until 2 am. At midnight, we'll greet the new year with a glass of Champagne and Fini's fireworks.
On New Year's Day you can sleep in, breakfast until noon (with more meat than usual). At 1 p.m. we invite you to join us to a traditional, small New Year's celebration on the hotel roof. There'll be mulled wine or cider, homemade pancakes (the German classic 'Berliner') and a balloon with a card and pen for everyone. Write down your wish for 2022, then we'll count down and release the helium balloons at the same time into the beautiful new year's sky. One or two guests have been known to get a little teary-eyed during this ceremony and when checking out.
Book online now