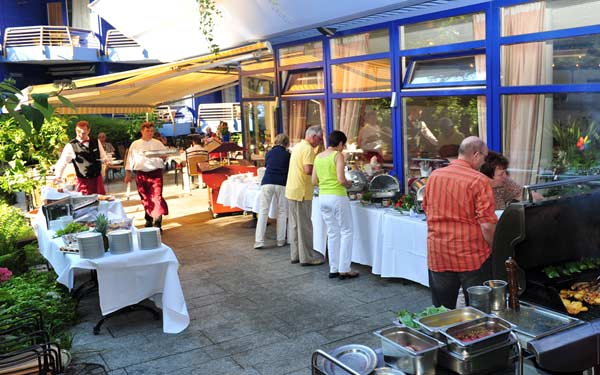 Culinary Week
Sunday: Walk and Dine
At 6:00 pm we'll start with a culinary tour of the hotel. Our hotel director will show you what goes on behind-the-scenes and tell you the story of the Fini-Resort. We'll start off with a glass of sparkling wine at the hotel bar, enjoy a delicious appetizer in our gym. The tour will end with an exquisite menu filled with regional and seasonal products at our hotel "Aqua villae".
Monday: French Night
We're only 8 kilometers away from the French border, so we've stolen some culinary tips from our neighbors. Guests will be served the famous 'Flammkuchen' from Alsace, a classic featuring German bacon and onions. Then, you'll enjoy a classic French menu, with a choice of fish or meat, of course. Our servers are dressed in typical French style, there'll be French wines and cocktails at the bar.
Tuesday: Fini's Chateau-Feast
Our number-one house specialty is the "Chateaubriand royal", an incredibly tender, pink, grilled filet from free range cattle from the 'Markgräfler' region. To complement the filet, we offer two homemade sauces, macaire potatoes, homemade 'spätzle' and fresh vegetables from "Fini's Farm". For many of our guests, this is the highlight of the week.
Wednesday: Barbecue or Fondue
On Wednesdays, the large grill on our sunny terrace is in use. We have four to five different meat varieties for you, ranging from traditional and savory to exquisite and fine. Fish is also available, there are five different delicious dips, of course all homemade. We also offer a salad buffet, bread, potato wedges, other side dishes and a variety of desserts. In winter, or during very bad weather, we'll change plans and host a Swiss fondue night in our restaurant with a variety of meats, sauces, side dishes, and desserts.
Thursday: An Authentic 'Badisch' Night
Nowhere else in Germany can you find as many star chefs as in the Southwest. The 'badisch' culinary tradition is famous and appreciated by many. On Thursdays, we serve our guests regional, 'Markgräfler' dishes and savory Black Forest delicacies. Try the local wines (they're a perfect match!) which are included in the dinner.
Friday: Roman Night
The Romans founded this village 2,000 years ago and have left their marks on this region. Every Friday, we remind our guests of our founders with a menu (or buffet) based on former Roman recipes. Always in use is our trusty Roman clay oven, not 2000-years-old. In 2013 we had experts (and old documents) help us and we built our oven.
Saturday: Schnitzel, Fried Fish & Co.
You'll enjoy our schnitzel: regional meat, beautiful breadcrumb coating, lovely sauces. With roast potatoes, 'spätzle', and French fries. For fish lovers, we offer beer-battered baked fish, crispy perch filet, and the best Remoulade sauce in the region. Salad buffet, vegetables from the farm, exquisite desserts make this your perfect Saturday.
Depending on the day and our vacancies, we'll offer the half-board in either the menu or buffet format.